Missions Week 2021: Wednesday
MMS AVIATION – CHUCK EGBERT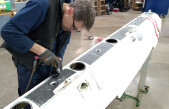 Through the centuries Christian missionaries have labored to take the Gospel of Jesus Christ to "the uttermost parts of the earth." In carrying God's Word to remote peoples, weeks and possibly months of slow, often dangerous, travel was undertaken. Not until recent time has a practical solution to the problem of distance and geographic barriers been available.
Today, many missionaries serving in remote parts of the world rely on aircraft to transport them to and from locations where they serve, to bring them supplies while they are there, and to stand by for emergencies. By speeding the missionary to his work, many more people will hear of the love and salvation of Jesus Christ.


Q) How did God call you to serve where you are?

As you know, I trained at MMS Aviation from March 1996 through November 1998. It was a great experience for me, and for my family. I could have gone to a formal school and am very glad that I choose to train at MMS! I never dreamed I would serve as a staff member at MMS. As my experience grew and my skills developed, we saw the Lord do some amazing things. We were happily serving with Mercy Air in South Africa when our Visa renewal was denied, and we had to leave. We can now look back and see God's hand upon us, directing our paths.

Q) What surprised you or caught you off guard when you started serving there?

That I actually had something to teach others, and that God could use me in training the next generation.

Q) What is the one thing you wish the church knew but are nervous to tell them?

I have never been a very patient person. While I seem to do fairly well with the apprentices, I have not always been the best father. Maybe the Lord has given me a second chance?!?!

Q) What is your favorite moment or memory of sharing the Gospel or seeing somebody respond to it?

For certain, my fondest memory would be sharing with a young man who came to me for his FAA mechanic exam. As we were ready to begin the exam, I asked him if he would mind if I prayed. He said he would not mind. After he had completed his exam, I had the chance to ask him about faith matters. He claimed to know Christ and said that he and his wife often went to church. I asked him if he reads the Bible and prays with his wife. I was able to encourage him to make those two things' priorities in his life.


Q) How have you seen God move in the midst of a global pandemic?

Our Christmas celebration was confined to our immediate family, and it was good. We saw some healing in a strained relationship between 2 of our kids and enjoyed our time together.

Q) What are the best ways the church can continue supporting you?
Prayer! Thank you so much for standing with us in prayer. Please pray for safe travels, as I drive to and from work this winter. Pray for those we are training in the hangar, particularly for a young lady apprentice named Rebekah. Pray for our children: 2 of the 3 Bigs are not following Christ at present, and the Littles need prayer for their development and faith.