Our Campus
---
The PDCPC Campus is a beautiful place to connect with God & with others. Built in 1960's, our iconic mid-century modern architecture makes us a well-known landmark along Hwy 74.
We have many different facilities that are well suited for events of all kinds, and our landscape creates an outdoor oasis for all who wish to linger. Here are just a few highlights of some of the popular places on our campus.
---
Columbarium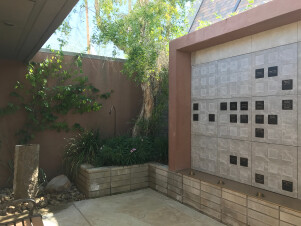 From the Latin word "columba" meaning "dove house", the niches housed cremated remains in the Roman Empire. The word also came to describe places where Christians gathered for prayer, and lies behind our English word for chapel. For Christians, the imagery of the dove is a witness to the Holy Spirit, "the Lord and giver of life."
Our Columbarium, located adjacent to the Sanctuary at the west entrance, has 162 niches for urns containing cremated human remains. For more information on availability and pricing, please contact Jackie Lockington – or (760) 340-4817; or call the church office at (760) 346-8195.
---
Eisenhower Library
Our Library is well-stocked with fiction and non-fiction Christian books and many reference works, as well. The Library is open most hours during the week and on Sunday. Books may be checked out for 30 days.
---
Multi-Purpose Gym
Speck Center is located in the lower level of our Family Life Center and is used for large gatherings, dinners, special events, sporting leagues, and many other functions.
The facility is equipped with a stage, theatrical lighting, audio/visual equipment, and basketball hoops & has the ability to be configured with many different setups. There is also easy access to restrooms, and a kitchen.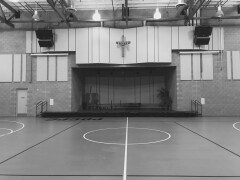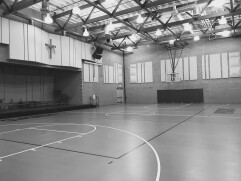 ---
Performing Arts Center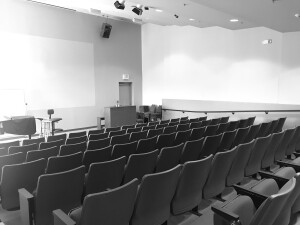 Our Taylor Fine Arts Auditorium, complete with audio and video equipment, is ideal for classes, music rehearsal, showing of films and other instructional uses.
The seating capacity is 85.
For booking information contact the church office at (760) 346-8195.
---
Prayer Chapel
The Prayer Chapel is located in the upper parking lot close to Hwy 74. It was created by Andrew (Andy) Andeck in 1984 for ALL (including passerby's and residents of the Coachella Valley) to have an opportunity for prayer and solitude on their journey.
The Chapel is a quiet place for prayer and reflection that is open 24 hours a day, every day of the year.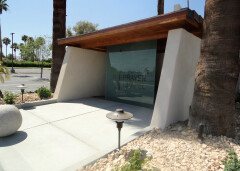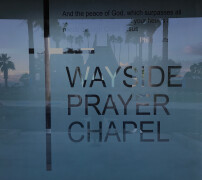 ---
SaveSave
SaveSave