Crisis Intervention
---
Deacon's Closet
Every second Sunday we have staff standing by in the parking lot to help collect your contributions to The Deacon's Closet, a food pantry that serves our local community every Tuesday from 9-12. Items that are being requested include:
Pancake Syrup
Coffee
Tea
Sugar
Flour
Ramen Noodles
Rice
Jelly
Peanut Butter
Canned Fruit
Toothbrushes
Toothpaste
Shampoo
We are proud to help hundreds of local families and thank you for your contribution and investment in our local community.
Coachella Valley Rescue Mission, Indio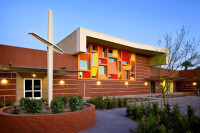 In 1971, a group of concerned businessmen and churches came together to form the Coachella Valley Rescue Mission. The Coachella Valley Rescue Mission has been and continues to be a place where people can recover the life God intended for them to have. At CVRM, the homeless, abused, addicted, and needy have a place where physical, spiritual, and developmental needs are met.
Literally thousands of men, women, and children have been helped through the Mission's programs. Today, the Mission feeds and shares the Gospel with over 225 clients per day. Over 190,000 meals are served in their kitchen each year and over 70,000 nights of safe shelter will be provided. The Coachella Valley Rescue Mission could not do this without the kindness and generosity (both financial & hands-on commitment) of churches like us.
Current Need: CVRM has begun collecting items for Back to School. Throughout June and July, we are collecting backpacks, pencils, markers, notebooks, folders, 3-hole punch lined paper, binders, and pens in black and red. Our goal is to fill 100 backpacks!
For a complete list of items, please click here (link to: https://www.cvrm.org/wp-content/uploads/2020/06/Supplies-Needed_.png). If you are ordering online you can also send items directly to the church, 47-321 Highway 74, Palm Desert, CA 92260 attn CRVM.
Mama's House
https://www.themamashouse.org/
Do you have a heart for women facing an unexpected pregnancy? Do you want to help strengthen families in our local community? Mama's House is the only residential home in the Coachella valley providing shelter for women in crisis pregnancies. Ways to get involved include drivers, tutors, providing childcare, program facilitator, fundraising, and more. Volunteer application and background check required. Text or call Janice Sanders at 916-705-1590 for more information on how you can get involved.
SaveSave