Crisis Intervention
---
Coachella Valley Rescue Mission, Indio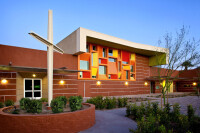 In 1971, a group of concerned businessmen and churches came together to form the Coachella Valley Rescue Mission. The Coachella Valley Rescue Mission has been and continues to be a place where people can recover the life God intended for them to have. At CVRM, the homeless, abused, addicted, and needy have a place where physical, spiritual, and developmental needs are met.
Literally thousands of men, women, and children have been helped through the Mission's programs. Today, the Mission feeds and shares the Gospel with over 225 clients per day. Over 190,000 meals are served in their kitchen each year and over 70,000 nights of safe shelter will be provided. The Coachella Valley Rescue Mission could not do this without the kindness and generosity (both financial & hands-on commitment) of churches like us.
Current Need: CVRM has made it to Phase III of COVID Recovery, with NO COVID cases, and they are now open for individual volunteers for the kitchen, nightly Chapel services, landscaping, and the thrift store. They have social distance stripes on the floor of the kitchen and the thrift store, and also plexiglass.
On July 1 - All volunteers can start, including groups, children over the age of 12 with an adult. Also, all outside guests may come inside for our meal service. For further information or to schedule serving in the kitchen, please contact Janna Soderberg at 702-767-5262.
Current Need: Thousands of children in the Coachella Valley will face the coming school year without the supplies needed to complete class assignments and do their homework. You can make a difference in their lives by improving the quality of their education and reducing their anxiety surrounding the start of school. How? It's easy! Just pick up a backpack next time you are at the store (or order it online!) and fill it with supplies from this list. Stocked backpacks must be dropped off to the church offices by August 5 or to the rescue mission by August 7 so that they can be distributed before the start of school.
Mama's House
https://www.themamashouse.org/
Do you have a heart for women facing an unexpected pregnancy? Do you want to help strengthen families in our local community? Mama's House is the only residential home in the Coachella valley providing shelter for women in crisis pregnancies. Ways to get involved include drivers, tutors, providing childcare, program facilitator, fundraising, and more. Volunteer application and background check required. Text or call Amanda Hyder at 760-459-7744 for more information on how you can get involved.
Neighbors 4 Neighbors
"In the Lord's Prayer, the first petition is for daily bread. No one can worship God or love his neighbor on an empty stomach."
-Woodrow Wilson
"I want you to be concerned about your next-door neighbor. Do you know your next-door neighbor
? -Mother Theresa
Palm Desert Community Presbyterian Church and St. Margaret's Church are neighbors and our neighbor needs help in providing food to families being hit by the misfortunates caused by the Covid-19 pandemic. The Neighbors 4 Neighbors program Is an amazing outreach program which served approximately 300 people before the pandemic and today is serving over 900 families. Deb Smith had the opportunity to visit with Chet Hecht, Outreach Director at St. Margaret's Church and to do a site visit of the program in action. It is an amazing, well organized, efficient program using safe practices. We can't wait for the people of PDCPC to be involved. Bless the volunteers who have worked overtime to serve more than double the amount of people since the pandemic. These volunteers need more helpers! If you would like a site visit of the program, please contact
303-249-5553 so we can organize a group and work with Chet to find the appropriate time. For those of you who are already aware of the program and would like to help immediately, please contact Chet Hecht,
, 760-346-2697.
SaveSave