Youth Services
---
Fellowship of Christian Athletes
Since 1954, the Fellowship of Christian Athletes has been challenging coaches and athletes on the professional, college, high school, junior high and youth levels to use the powerful medium of athletics to impact the world for Jesus Christ. FCA focuses on serving local communities by equipping, empowering and encouraging people to make a difference for Christ.
PDCPC supports our local FCA, which operates at 16 Middle and High Schools in the Valley, including Palm Desert High School, and Xavier College Prep High School, and is run by Rob Ralph, FCA's Director for our area.
Grieving Teens of the Desert

760-831-1462
Grieving Teens of the Desert helps students dealing with bullying, suicide or the death of a loved one work through their grief together.
Grief groups meet with the executive director of the program, Tom Morris, once a week at different schools around the Coachella Valley including La Quinta High School, Palm Desert High School and Desert Hot Springs High School.
Morris gives them a safe place to talk about unresolved issues in their lives.
"Grief is grief and they just need to talk about it," said Morris.
The program helped 12th grader Nicole Barden at Palm Desert High School deal with the loss of her math teacher, Jill Grant, who died in December.
"That wasn't easy. You don't move on you just learn to live with it," she said.
The tasks are as follows:
Accept the reality of the loss
Work through the pain of grief
Adjust to a world without the deceased or lost
Emotionally relocate the lost or deceased and move forward
Read With Me
What It Is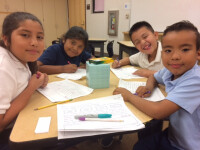 Read with Me is a program that empowers volunteers to work one on one or in small groups with children who are learning English as a second language. Volunteers have the opportunity to encourage, teach and support the children as they learn and improve their knowledge of English for speaking, writing and reading. They also tutor in math. The program is welcomed in public elementary schools in the desert.
How to Get Connected
You can volunteer to be one of the PDCPC volunteers who go each week to Oasis Elementary School in Thermal to help children develop their reading skills. No professional training is required. This program is active from November through April each year. Contact the program coordinator, Kathy Coplen, at for more information on how you can serve.
"Our students did great in the state tests last year. We went up 25 points and are now at 737 with the objective of reaching 800. We firmly believe that Read With Me has been a key program to improve our scores and literacy levels in general." – Mr. B. Hernandez, Oasis Elementary School Assistant Principal
"What I do is important to the future of these children. With both English and Spanish they can do so many things when they are older. It opens another world of opportunity to them." –PDCPC Read With Me Volunteer
SaveSave
SaveSave
SaveSave