Missions Week 2021: Thursday
HORIZONS INTERNATIONAL – GEORGES HOUSSNEY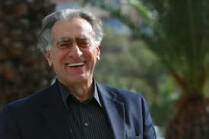 Horizons International is a charity and community development organization that benefits orphans, widows, and impoverished communities, particularly in the Muslim world. Believing that spiritual issues are at the core of human suffering, their primary focus is on evangelism, discipleship, and church planting.
Q) How did God call you to serve where you are?
After many years of church planting in Lebanon and the Middle East, and at the conclusion of my work in Bible Translation, the Lord put on my heart the passion to reach the displaced people in the world.
International students from all over the world flock to the USA seeking degrees and returning to their countries to assume key positions in business and politics. This strategy is one of the most critical as on one campus we can reach people from many countries. Friends from Colorado pointed out that international students form 70% of the engineering school in addition to thousands in other schools. That was God's call to reach them.

Q) What surprised you or caught you off guard when you started serving there?
The big surprise is that the churches in Boulder and throughout the USA do not seem to see the significance of reaching out to the international students who are the cream of the crop from around globe. It has been difficult to recruit and mobilize the churches to partner with us. However, those churches that do participate, find this ministry as a "foreign mission at home."


Q) What is the one thing you wish the church knew but are nervous to tell them?
The church in America needs to make missions not only a priority but its main mission. I believe that the great commission was given not to a few who respond, but to the entire church. Mission is the church not just a program of the church. God planted the church in the world to be salt and light to the world.


Q) What is your favorite moment or memory of sharing the Gospel or seeing somebody respond to it?
My favorite experience is when Muslims seek me out to learn about Jesus. Usually, these people are visited by the Lord Jesus in dreams and visions, and they open their hearts to learning more about Christ.
Such stories abound. One of them is of a Sudanese who told me when I first met him, "I was born a Muslim and I will die a Muslim." Then the big surprise came when he dreamed of a man dressed in white and his face shone like the sun. This mysterious man waved to Hassan from across the lake and told him to cross over walking on the water. He wondered who this man in white was! One of my staff opened to Bible and read to him the story of Peter walking on water. The rest is history. Two months later, he received Christ passionately.

Q) How have you seen God move in the midst of a global pandemic?
Although I have always used Social media to reach out to Muslims in evangelism and discipleship, the pandemic forced me and my staff of over 100 men and women to stay home and to increase our communication. We have created videos and short messages and posted them, I have begun Zoom conferences and meetings to disciple converts. The result is that our outreach has multiplied many times over.

Q) What are the best ways the church can continue supporting you?
The honest truth is that my personal support has suffered greatly because of covid. I am short $1200 a month after a strong appeal that brought many new gifts but came short of my budget.
Few know that my support covers all ministries I am personally involved in and not just my salary. That includes trip tickets, lodging, conferences, purchase of Bibles and many other items.
Prayer of course is a most powerful tool to support us. Another thing is that you can sponsor a refugee family, or a school kid, or a pastor (partial or in full). Our newsletters have many projects in which you can participate.
>> For more info on how Horizons is working to serve Lebanon during this crisis, watch this video, made just for PDCPC, from Georges' son, Pierre.