Missions Week 2021: Monday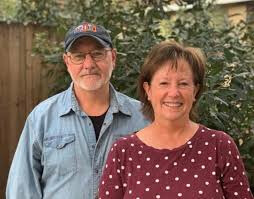 OUR CALL MISSIONS – AN INTERVIEW WITH KEITH AND LISA COGGINS
Keith and Lisa have been serving in Uganda since 2002. They currently reside in Gulu (in the northern region go Uganda). The main focus of their work is to develop a Biblical worldview in the next generation of Children in Africa through a Christ-centered Educational Curriculum used in conventional schools as well as non-formal Village Learning Centers. Teachers and Educators are trained to make disciples in this and the next generation. They have a working model school in Gulu called Sanctuary of Grace Christian Academy.

Q: How did God call you to serve where you are?
We went on many Mission trips to various places in the 1990's including Uganda, Africa. We knew God was calling us to serve Him abroad, but we did not know where. Then one day while walking through a bookstore Keith got the call that the Lord was telling us to go to Uganda.

Q: What surprised you or caught you off guard when you started serving in Uganda?
What we thought and could see as their greatest physical and spiritual needs were not at all what they felt their needs were. We had to make many adjustments in our worldview understanding.

Q: What is the one thing you wish the church knew but are nervous to tell them?
Living in a foreign country is very hard every day. We send home the uplifting reports that are true and exciting but often we are tired, lonely and frustrated and need prayer and
encouragement. To be honest though we always received this from PDCPC. And finances are always a need. And again, this congregation has always been there for that too!

Q: What is your favorite moment or memory of sharing the Gospel or seeing somebody respond to it?
When the teacher was teaching Roots to Fruits Bible truths in the 4thGrade (P4 in Uganda), a day came when the entire class wanted to become true followers of Jesus. We talked with each one of them and they were spot on in their understanding of the Gospel and all gave their lives to the Lord.

Q: How have you seen God move in the midst of a global pandemic?
We have seen that what most people valued in life has now begun to change. Instead of material gain, people have come to see the great value of relationships. As always in a crisis, God uses His children to reveal Himself.

Q: What are the best ways the church can continue supporting you?
Financially, contacting us, having a prayer group for each missionary for specific needs, and visiting when possible.
---
HANDS OF MERCY, MEXICO