Holy Week Devotional Day 7: Easter Sunday
Christ Is Risen!
He Is Risen Indeed!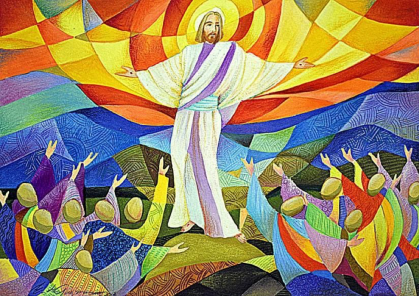 Resurrected Christ and the Apostles
By Edgardo de Guzman
Used by permission
SONG
Christ the Lord Is Risen Today
(2019) | The Tabernacle Choir
The Tabernacle Choir and Orchestra at Temple Square, Bells on Temple Square, and Gabriel Trumpet Ensemble perform the traditional hymn tune "Christ the Lord Is Risen Today," by Mack Wilberg, Lyrics by Charles Wesley.

SCRIPTURE
John 20:1-18 New International Version (NIV)
The Empty Tomb
20 Early on the first day of the week, while it was still dark, Mary Magdalene went to the tomb and saw that the stone had been removed from the entrance. 2 So she came running to Simon Peter and the other disciple, the one Jesus loved, and said, "They have taken the Lord out of the tomb, and we don't know where they have put him!"
3 So Peter and the other disciple started for the tomb. 4 Both were running, but the other disciple outran Peter and reached the tomb first. 5 He bent over and looked in at the strips of linen lying there but did not go in. 6 Then Simon Peter came along behind him and went straight into the tomb. He saw the strips of linen lying there, 7 as well as the cloth that had been wrapped around Jesus' head. The cloth was still lying in its place, separate from the linen. 8 Finally the other disciple, who had reached the tomb first, also went inside. He saw and believed. 9 (They still did not understand from Scripture that Jesus had to rise from the dead.) 10 Then the disciples went back to where they were staying.
Jesus Appears to Mary Magdalene
11 Now Mary stood outside the tomb crying. As she wept, she bent over to look into the tomb 12 and saw two angels in white, seated where Jesus' body had been, one at the head and the other at the foot.
13 They asked her, "Woman, why are you crying?"
"They have taken my Lord away," she said, "and I don't know where they have put him." 14 At this, she turned around and saw Jesus standing there, but she did not realize that it was Jesus.
15 He asked her, "Woman, why are you crying? Who is it you are looking for?"
Thinking he was the gardener, she said, "Sir, if you have carried him away, tell me where you have put him, and I will get him."
16 Jesus said to her, "Mary."
She turned toward him and cried out in Aramaic, "Rabboni!" (which means "Teacher").
17 Jesus said, "Do not hold on to me, for I have not yet ascended to the Father. Go instead to my brothers and tell them, 'I am ascending to my Father and your Father, to my God and your God.'"
18 Mary Magdalene went to the disciples with the news: "I have seenthe Lord!" And she told them that he had said these things to her.
Holy Bible, New International Version®, NIV® Copyright ©1973, 1978, 1984, 2011 by Biblica, Inc.® Used by permission. All rights reserved worldwide.


REFLECTION
As you read our Scripture passage today, do you wonder why Mary was going to the tomb while it was still dark? I wonder if she had been able to sleep at all. I wonder if the disciples had slept. What grief they must have been experiencing. What sorrow and heartache it must have been to have seen the brutality that Jesus endured and that God had not rescued Him from the cross. We have the story, and we know that with death comes the glorious resurrection of our Jesus. But these poor followers did not. I picture that she could not sleep and went to take care of Jesus' body with the special spices for burial.
Mary must have been horrified to find the tomb empty. Thinking that her Lord's body was stolen, she went running to get Peter and John. Can you imagine the commotion of all of them running through the streets to see what happened? In those days, the testimony of a woman was not accepted, often considering it foolishness. But it turns out that she was right. The men leave, and Mary remains, heartbroken and crying.
God reaches out to her in her pain with two angels. In Luke's account, the angels say
"Why do you look for the living among the dead? He is not here; he has risen! Remember how he told you, while he was still with you in Galilee: 'The Son of Man must be delivered over to the hands of sinners, be crucified and on the third day be raised again.' "
Then Jesus appears, but she doesn't recognize Him until He calls her name. Jesus, our shepherd, knows us by our names (John 10:3). What a comforting thought to know that Jesus knows us by our name. Upon hearing her name, she is overjoyed and wants to hold on to Him. What it must have been like to go from such great sorrow to being overjoyed at seeing her Lord.
Today, we celebrate Jesus' victory over sin and death. He has overcome the powers of darkness and is raised to new life! All who call on the name of the Lord Jesus will be saved.
Christ is risen! He is risen indeed!

PRAYER
Powerful and mighty Jesus!
Humble and sweet Jesus!
You did not consider equality with God but
were obedient to the point of death so that
you would reconcile us to the Father. No longer enemies of God,
but heirs of the promises of God.
You are our Savior, Redeemer, Advocate,
Intercessor, Righteousness, Brother, and our Friend.
We are grateful, honored, thankful, and joyful for what
You have done for us dear Jesus.
May our lives reflect and honor you, bringing you the glory and honor
you are worthy of receiving.
We give you our hearts, our minds, our strength and our souls.
We are forever yours.
Amen