Holy Week Devotional Day 6: Holy Saturday
Matthew 27:57-66 New International Version (NIV)

The Burial of Jesus

57 As evening approached, there came a rich man from Arimathea, named Joseph, who had himself become a disciple of Jesus. 58 Going to Pilate, he asked for Jesus' body, and Pilate ordered that it be given to him. 59 Joseph took the body, wrapped it in a clean linen cloth, 60 and placed it in his own new tomb that he had cut out of the rock. He rolled a big stone in front of the entrance to the tomb and went away. 61 Mary Magdalene and the other Mary were sitting there opposite the tomb.
The Guard at the Tomb
62 The next day, the one after Preparation Day, the chief priests and the Pharisees went to Pilate. 63 "Sir," they said, "we remember that while he was still alive that deceiver said, 'After three days I will rise again.' 64 So give the order for the tomb to be made secure until the third day. Otherwise, his disciples may come and steal the body and tell the people that he has been raised from the dead. This last deception will be worse than the first."
65 "Take a guard," Pilate answered. "Go, make the tomb as secure as you know how." 66 So they went and made the tomb secure by putting a seal on the stone and posting the guard.

Mark 15:42-47 (NIV)
The Burial of Jesus
42 It was Preparation Day (that is, the day before the Sabbath). So as evening approached, 43 Joseph of Arimathea, a prominent member of the Council, who was himself waiting for the kingdom of God, went boldly to Pilate and asked for Jesus' body. 44 Pilate was surprised to hear that he was already dead. Summoning the centurion, he asked him if Jesus had already died. 45 When he learned from the centurion that it was so, he gave the body to Joseph. 46 So Joseph bought some linen cloth, took down the body, wrapped it in the linen, and placed it in a tomb cut out of rock. Then he rolled a stone against the entrance of the tomb. 47 Mary Magdalene and Mary the mother of Joseph saw where he was laid.
Luke 23:50-56NIV
The Burial of Jesus
50 Now there was a man named Joseph, a member of the Council, a good and upright man, 51 who had not consented to their decision and action. He came from the Judean town of Arimathea, and he himself was waiting for the kingdom of God. 52 Going to Pilate, he asked for Jesus' body. 53 Then he took it down, wrapped it in linen cloth and placed it in a tomb cut in the rock, one in which no one had yet been laid. 54 It was Preparation Day, and the Sabbath was about to begin.
55 The women who had come with Jesus from Galilee followed Joseph and saw the tomb and how his body was laid in it. 56 Then they went home and prepared spices and perfumes. But they rested on the Sabbath in obedience to the commandment.
John 19:38-42 New International Version (NIV)
The Burial of Jesus
38 Later, Joseph of Arimathea asked Pilate for the body of Jesus. Now Joseph was a disciple of Jesus, but secretly because he feared the Jewish leaders. With Pilate's permission, he came and took the body away. 39 He was accompanied by Nicodemus, the man who earlier had visited Jesus at night. Nicodemus brought a mixture of myrrh and aloes, about seventy-five pounds. 40 Taking Jesus' body, the two of them wrapped it, with the spices, in strips of linen. This was in accordance with Jewish burial customs. 41 At the place where Jesus was crucified, there was a garden, and in the garden a new tomb, in which no one had ever been laid. 42 Because it was the Jewish day of Preparation and since the tomb was nearby, they laid Jesus there.
Holy Bible, New International Version®, NIV® Copyright ©1973, 1978, 1984, 2011 by Biblica, Inc.® Used by permission. All rights reserved worldwide.
REFLECTION
"It is finished." Jesus, the man of sorrows, crucified on a cross, shed His blood for you and me. He was crucified by sin for us. God Himself bearing all the sufferings of time!
As we read the accounts of Jesus' burial, do you notice any mention of any of the 12 disciples? Isn't it interesting that his closest companions are not mentioned in the gospel accounts of Jesus' burial, but the women, a Pharisee, Nicodemus, and a member of the Sanhedrin, Joseph of Arimathea? Both of these men wondered about Jesus and took significant risks to meet with Him undercover to avoid religious elders' trouble. But here are both of them going to Pilate, a very public display of their concern for properly burying the body before the beginning of the Sabbath, but it also seems to confirm that they do believe that Jesus is the Son of God, the long-awaited Messiah. Burying Jesus in Joseph's tomb fulfills the prophecy that He would be laid with the rich.
I was glad to see that both men have revealed where their allegiance lies without concern for what the Pharisees and Sanhedrin would do or say. But would they take such a risk to show what they believed if they thought that it was over? That Jesus has died, and that's it.
Has there ever been a time where you have kept silent with certain crowds about your relationship with Christ? As we think about what happened this Saturday, let's pray that God will give us the boldness to stand up for Jeus and proclaim His death and resurrection no matter who we are with and where we find ourselves.

PRAYER
Obedient Christ, you are not a stranger to suffering and sacrifice. It is through your body that we have victory over death. Thank you for not abandoning your purpose and taking the cup that was prepared for you. You have saved us from darkness and sin. Please help us be like Nicodemus and Joseph, to seek your truth when we have questions, concerns, or complex thoughts. May we be bold in standing up for you, proclaiming your life, death, and resurrection. In your name we pray, Amen.
By Kathy Aposhian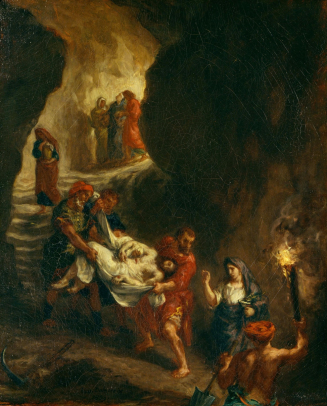 Delacroix, Eugène, 1798-1863. Christ Carried Down to the tomb, from Art in the Christian Tradition, a project of the Vanderbilt Divinity Library, Nashville, TN. http://diglib.library.vanderbilt.edu/act-imagelink.pl?RC=57354 [retrieved April 2, 2021]. Original source:https://commons.wikimedia.org/wiki/File:Eug%C3%A8ne_Delacroix_-_Christ_Carried_Down_to_the_Tomb_-_Google_Art_Project.jpg.
SONG
Christ Carried Down to the Tomb
Lyrics:
1 Cross of Jesus, cross of sorrow,
Where the blood of Christ was shed,
Perfect Man on thee did suffer,
Perfect God on thee has bled!
2 Here the King of all the ages,
Throned in light ere worlds could be,
Robed in mortal flesh is dying,
Crucified by sin for me.
3 O mysterious condescending!
O abandonment sublime!
Very God Himself is bearing
All the sufferings of time!
4 Cross of Jesus, cross of sorrow,
Where the blood of Christ was shed,
Perfect Man on thee did suffer,
Perfect God on thee has bled!
Stainer: The Crucifixion - Cross of Jesus, Cross of Sorrow
Choir Of St. John's College, Cambridge
Brian Runnett - George Guest
Stainer:The Crucifixion
℗ 1962 Decca Music Group Limited
Released on: 1962-02-18
Producer, Recording Producer: Andrew Raeburn
Studio Personnel, Balance Engineer: Kenneth Wilkinson
Composer: John Stainer
Author: William John Sparrow-Simpson