Holy Week Devotional Day 5: Good Friday
"Two other men, both criminals, were also led out with him to be executed. When they came to the place called the Skull, they crucified him there, along with the criminals—one on his right, the other on his left. Jesus said, "Father, forgive them, for they do not know what they are doing." And they divided up his clothes by casting lots.
The people stood watching, and the rulers even sneered at him. They said, "He saved others; let him save himself if he is God's Messiah, the Chosen One."
The soldiers also came up and mocked him. They offered him wine vinegar and said, "If you are the king of the Jews, save yourself."
There was a written notice above him, which read: this is the king of the jews.
One of the criminals who hung there hurled insults at him: "Aren't you the Messiah? Save yourself and us!"
But the other criminal rebuked him. "Don't you fear God," he said, "since you are under the same sentence? We are punished justly, for we are getting what our deeds deserve. But this man has done nothing wrong."
Then he said, "Jesus, remember me when you come into your kingdom."
Jesus answered him, "Truly I tell you, today you will be with me in paradise."
It was now about noon, and darkness came over the whole land until three in the afternoon, for the sun stopped shining. And the curtain of the temple was torn in two. Jesus called out with a loud voice, "Father, into your hands I
commit my spirit." When he had said this, he breathed his last.

The centurion, seeing what had happened, praised God and said, "Surely this was a righteous man." When all the people who had gathered to witness this sight saw what took place, they beat their breasts and went away. But all those who knew him, including the women who had followed him from Galilee, stood at a distance, watching these things."
Luke 23:32-49 (NIV)
Holy Bible, New International Version®, NIV® Copyright ©1973, 1978, 1984, 2011 by Biblica, Inc.® Used by permission. All rights reserved worldwide.
REFLECTION
What a difference from Palm Sunday when Jesus rode into Jerusalem, where the crowd was praising Jesus with "Blessed is the King who comes in the name of the Lord!" to shouting "Crucify Him, Crucify Him!".
Today, take some time to read the other Gospels' crucifixion accounts in Matthew 27:27-56, Mark15:21-41, and John 19:17-37.
A few things for us to consider, not only was He slapped, flogged, beaten, and crowned with thorns causing great physical pain, but He was mocked and insulted by the Jews, the Gentiles, and even by the two thieves at each side. Often being mocked and insulted without cause is far worse than actual physical pain. It stings us to the very core of ourselves. But Jesus did not defend Himself in any way. On the contrary, He prays for them and asks the Father to forgive them, for they know not what they are doing.
Jesus sets the example for us of what it means to forgive others. Let's try and think of a time when someone hurt us deeply with their words. Was it easy to extend forgiveness? Probably not. Let's take a moment and ask the Lord to help us be generous with the forgiveness we have received from Him and to extend that to others, even extending it to ourselves.
As Jesus takes on all our sins, He feels the full weight of separation from God and is truly alone up there on that cross. Imagine being there and hearing Him cry out to God, "Why have you forsaken me?" He had never experienced separation from God before. He took on our sins so that we would be covered in His righteousness and never be separated from the love of God that is in Christ Jesus.
When the time had come after He fulfilled all the prophecies written about His death, He exclaimed that it was finished and gave up His spirit. At that moment, the curtain or veil in the temple between the Holy of Holiesand the Holy Place was torn in two, signifying that we no longer had to make an atonement with a sacrifice through the high priest; we now go through Jesus. How amazing is our God making a way to draw even closer to Himself?
Jesus paid it all! There is nothing that we have done or could do to earn forgiveness. God provided it all, and it is the free gift of God. There is no other religion where the deity provides the way of salvation through His work alone, except through Christianity. Jesus is the way, the truth, and the life!
PRAYER
Merciful Father, Loving Jesus, Holy Spirit, thank you for your amazing sacrifice and perfect plan and purpose to bring humanity unto yourself. And YOU did all the work. Jesus, thank you for enduring such pain and misery on our behalf. Thank you that even though it was our sin that nailed you to that cross, you could still love us enough to forgive us and die for us. Thank you for being our redeemer, our rescuer, our rock, and our refuge. All our hope is in you, blessed redeemer.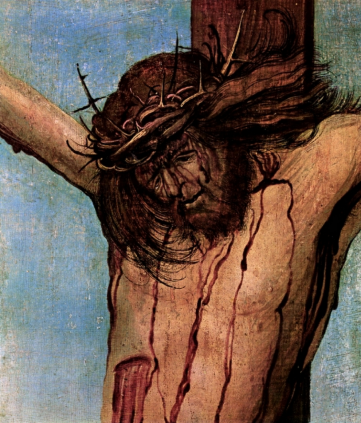 Crucifixion with Mary and John, detail of Christ
Altdorfer, Albrecht, ca. 1480-1538. Crucifixion with Mary and John, detail of Christ, from Art in the Christian Tradition, a project of the Vanderbilt Divinity Library, Nashville, TN.
http://diglib.library.vanderbilt.edu/act-imagelink.pl?RC=46263 [retrieved April 1, 2021]. Original source: https://commons.wikimedia.org/wiki/File:Albrecht_Altdorfer_-_Kreuzigung_Detail_(Gem%C3%A4ldegalerie_Alte_Meister_Kassel).jpg.

SONG

When I Survey The Wondrous Cross

London Philharmonic Choir
The National Philharmonic Orchestra
John Alldis Hymns Triumphant
℗ 1981 Sparrow Records
Released on: 1988-01-01
Producer: Billy Ray Hearn
Producer: Irving Martin
Associated Performer, Recording Arranger: Lee Holdridge
Arranger, Work Arranger: Lee Holdridge
Composer: Traditional