Holy Week Devotional Day 2
Jesus Anointed at Bethany
John 12:1-11 (NIV)
12 Six days before the Passover, Jesus came to Bethany, where Lazarus lived, whom Jesus had raised from the dead. 2 Here a dinner was given in Jesus' honor. Martha served, while Lazarus was among those reclining at the table with him. 3 Then Mary took about a pint of pure nard, an expensive perfume; she poured it on Jesus' feet and wiped his feet with her hair. And the house was filled with the fragrance of the perfume.
4 But one of his disciples, Judas Iscariot, who was later to betray him, objected, 5 "Why wasn't this perfume sold and the money given to the poor? It was worth a year's wages." 6 He did not say this because he cared about the poor but because he was a thief; as keeper of the money bag, he used to help himself to what was put into it.
7 "Leave her alone," Jesus replied. "It was intended that she should save this perfume for the day of my burial. 8 You will always have the poor among you, but you will not always have me."
9 Meanwhile a large crowd of Jews found out that Jesus was there and came, not only because of him but also to see Lazarus, whom he had raised from the dead. 10 So the chief priests made plans to kill Lazarus as well, 11 for on account of him many of the Jews were going over to Jesus and believing in him.
New International Version (NIV) Holy Bible, New International Version®, NIV® Copyright ©1973, 1978, 1984, 2011 by Biblica, Inc.® Used by permission. All rights reserved worldwide.

Reflection
Take a few moments to read this story two or three times, even out loud. As you read and reflect on today's reading, does it remind you of a similar time in the home of Mary and Martha? I was reminded of the time when Martha had welcomed Jesus into her house and was busy preparing the meal. Her sister, Mary, was seated at Jesus' feet listening to Him and Martha complained to Jesus to tell Mary to come and help in the preparation. Rather than chastising Mary, He tells Martha, "you are worried and upset about many things, but few things are needed—or indeed only one. Mary has chosen what is better, and it will not be taken away from her." (Luke 10:41-42) Mary gave her undivided time, attention, and devotion to listen to Jesus.
This occurrence followed the raising of Mary and Martha's brother Lazarus from the dead. We can imagine how grateful the whole family is to Jesus. Here, Mary is pouring a pint of pure nard; a costly perfume said to come from India and worth a year's wages. It could have been her life's savings, and she was using it to anoint Jesus, preparing Him for His burial. Was she the only one that understood what Jesus was about to go through? This extravagant and sacrificial act demonstrated her devotion, gratitude, and love for her Lord. Some commentators describe her act as a pure reflection of discipleship. That her anointing of Jesus and wiping His feet with her hair was an act of love and humility, parallel to what Jesus does for His disciples at The Last Supper, in which He then calls them to go and do likewise.
Let us reflect for a moment on our relationship with Jesus. Think upon the things that Jesus has done for us. How do we show our gratefulness or devotion to Jesus? Are we as extravagant as Mary? As we go into Holy Week, thinking about Jesus' humility and sacrifice for each of us, let us consider what we can do to show our gratefulness and devotion to Jesus.

Music
Jesus Paid It All · Fernando Ortega Storm
℗ Word Entertainment Released on 2002-02-05 Artist: Fernando Ortega

Prayer
Lord, often we don't stop to think how much it cost you to give up your divinity to come as one of us, experience life in the lowliest of ways, be rejected, condemned, and ridiculed. You were obedient unto death, even death on a cross, to take on our sins, redeem us and offer us the gift of new life. Forgive us when we take your sacrifice for granted and not shown how grateful we are for your tremendous love. Help us, Lord, to be people of true devotion to you. Please help us to be like Mary, willing to be extravagant is demonstrating our worship and love to you. In your name we pray. Amen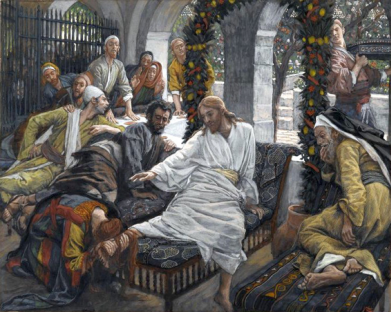 Image: Anointing of Christ's Feet
Tissot, James, 1836-1902. Anointing of Christ's Feet, from Art in the Christian Tradition, a project of the Vanderbilt Divinity Library, Nashville, TN. http://diglib.library.vanderbilt.edu/act-imagelink.pl?RC=56847 [retrieved March 28, 2021]. Original source: https://commons.wikimedia.org/wiki/File:Brooklyn_Museum_-_The_Ointment_of_the_Magdalene_(Le_parfum_de_Madeleine)_-_James_Tissot.jpg.