You still have a few days to participate in our annual Backpack Bonanza! Next time you are out at the store, pick up a backpack and fill it with some items from the list and drop it off in the marked box in the entry of the church's admin office by end of the day on August 9! All backpacks will be distributed to local children in need by the Coachella Valley Rescue Mission.
Help us make sure as many kids as possible have the chance to start their school year prepared!
Items Needed Are:
-New Backpacks
-Safety Scissors
-#2 Pencils
-Notebook Paper
-Spiral Notebooks
-Box of 24 Crayons
-Glue Sticks
-Rulers
-Colored Pencils
-Pink Erasers
-Folders
-3" Binders
-Calculators
-Index Cards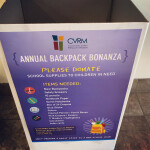 Thank you for your support!