Blue Gospel Scripts- This Sunday!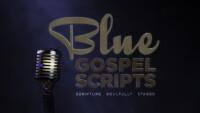 Blue Gospel Scripts is a collaboration of writers, musicians, spoken-word artists, designers, theologians, producers and others to soulfully stage the entirety of the Bible in 30-40 episodes. Each episode is about an hour. Scripts and songs were specially crafted by award-winning lyricist, David Lemieux during a 4-year development process.

The book of Daniel will be presented in the Sanctuary of Palm Desert Community Presbyterian Church on Sunday, February 25th at 4:00PM. Come and join us for this free (there will be an offering taken) presentation.
If you'd like to get a feel for what a Blue Gospel Scripts presentation looks like watch this 6 minute video.
When: Sunday, February 25th at 4:00PM in the Sancturary
Come and join us for the most unique presentation of scripture you will ever see in a church sanctuary.
---
Note: More Than Music, the ministry behind Blue Gospel Scripts will be helping to lead us in worship at our Sunday morning services on February 25th as well.
SaveSave
SaveSave
SaveSave
SaveSave