Adult Ministry
---
Here at PDCPC we have all kinds of options to help you GROW in your faith. We hope that you take advantage of one of these opportunities!
SUNDAY
ADULT CHRISTIAN EDUCATION CLASSES
10:00 am in Eisenhower library

WEEKDAY OPPORTUNITIES FOR STUDY & FELLOWSHIP
GROWTH GROUPS
Growth Groups provide a unique opportunity to connect with God and with others in a casual, smaller group setting. We have groups that meet at various times and in various locations around the valley. For more information on joining a group email Andrew & Denyse at .
---


CHURCH ON WEDNESDAY
(begins September 4)

Join us every Wednesday night for dinner and programming for all generations!
5:30 pm Dinner
6:00 pm Programs begin
2020 FAITH & CULTURE SPEAKER SERIES
in partnership with Fuller Seminary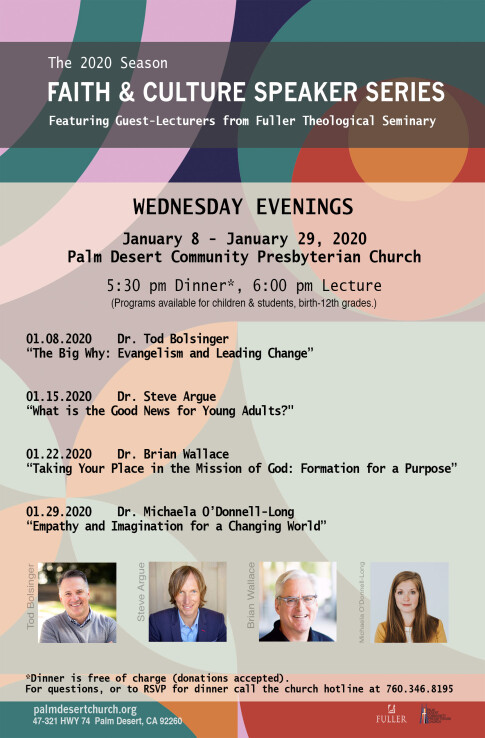 >> Programming for children birth-5thgrades
>> Student Ministry (small groups & service opportunities for students in grades 6-12)
---
WOMEN'S COMMUNITY BIBLE STUDY (CBS)
Wednesdays, 10:00am-12:00pm
Current Series: The Books of Daniel & Revelation.
Contact Corky Olander, or 760-200-3120 for questions. Children welcome!
WOMEN'S LUNCH BUNCH- A group of ladies who meet monthly to connect over lunch. You're invited! Diane Arneal 760-200-9812
MEN'S "EARLY-BIRD" BIBLE STUDY
Wednesdays, 6am, church Eisenhower Library, beginning October.
Led by Lloyd Macfadyen 760-346-9769.
MEN'S LA QUINTA BIBLE STUDY
Resumes October 1. Please contact Stu Parry at 330-472-1704 for more info.
MEN'S BERMUDA DUNES BIBLE STUDY
A year-round Bible study for all men. Wednesdays 7:00pm-8:00pm, Bermuda Dunes Country Club. Contact Roger Low at 760-345-8986
SONGSHINE
Mondays
SongShine Basics meets from 12:30 - 1:30 p.m. in Miller Hall.
The Words are the Thing meets from 2:00 - 3:30 p.m. in Taylor Fine Arts.
MENDING HEARTS (sewing group)
1st & 3rd Thursday, 9:00am-12:00pm, Miller Hall
Contact Maureen Mulcahey at 760-636-4828 for more info.
PINS & NEEDLES (sewing group)
Thursdays, 9:00am-12:00pm, Rm. 104 of the Family Life Center
Contact Pat Noakes at 760-341 6382 for more info.
Family Ministry
---
At PDCPC we pride ourselves in being a church for all generations.
Our facility is equipped with a Family Room, where parents of newborns and toddlers can find a crib, changing table, rocking chair, and plenty of age-appropriate toys and games.
We also have state-of-the-art classrooms for our weekly children's ministry, a covered playground, a gymnasium, and a children's book library.
Sunday Mornings
Each week our children begin the worship service in the sanctuary with the rest of the congregation.

// To learn about our Children's Ministry, click here.
// To learn about our Student Ministry, click here.