URGENT HELP NEEDED IN BRAZIL!
The Mission Ministry Team received the following urgent prayer request from our mission partner, Marcio Garcia of EMAF: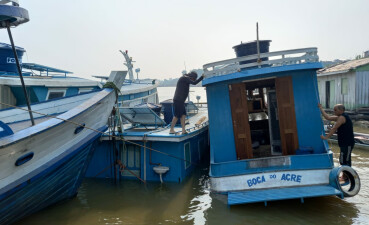 "One of our boats engaged on church planting along the Purus River, has sank a week ago. The MensageiroIII was lifted immediately, and a team of paid professionals, volunteers and missionaries are working hard to fix everything in that boat as quick as they can, to enable it to keep carrying one of our missionary teams to some of the least evangelized communities in the AMAZON WINDOW. We already raised some money for the repair, but still need US 3,560.00 at this point. PLEASE, PRAY FOR THAT and, maybe, share this need to the church."
EMAF serves the people living along the rivers of the Amazon in Brazil, bringing the Good News of Jesus to people who have not heard it before. Marcio and his wife, Damaris, have been faithful servants for many years and our church has been blessed to hear many of the stories of God's grace over the years.
We are asking you, our generous congregation, to please donate to this urgent request. Your gift/donation will be matched, up to $1,750.00. Please join us in supporting EMAF in fulfilling this great need. All donations can be dropped off to the church office (please write "EMAF" in the memo line).
We have the privilege of having Marcio join us via Zoom for our quarterly Mission's Ministry Roundtable on September 22nd.